Peter

Kuchler III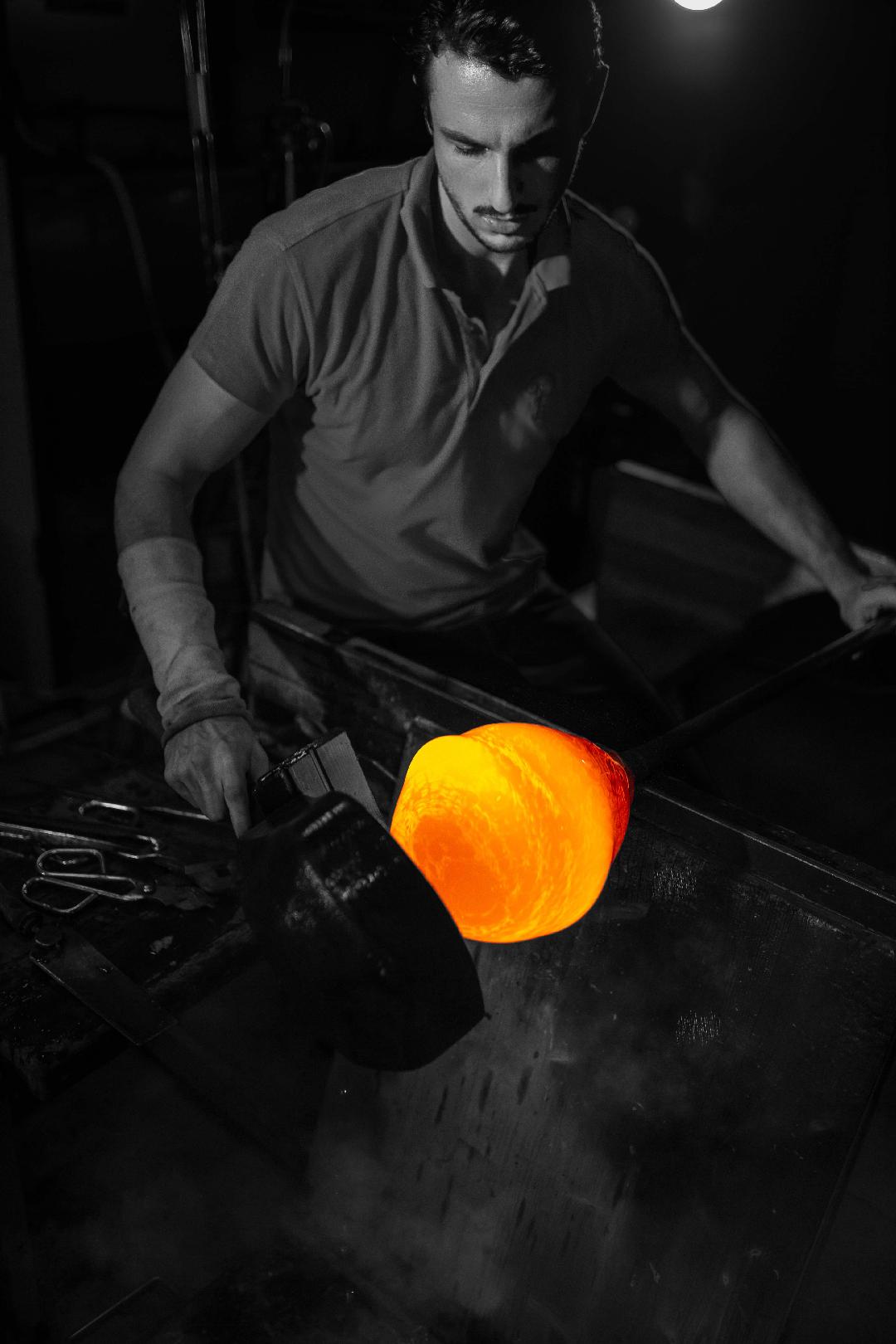 Peter Kuchler III – Contemporary Sculptural Glass Artist
Peter Kuchler III forms an artistic medium of liquid glass and represents contemporary art in the sculptural field. He was born in Wiener Neustadt in Austria in 1991. As an emerging artist he grew up in a glass dynasty and represents the third generation of glass artists.
...More...


Since the age of 14, Peter Kuchler III has been involved in shaping liquid glass and the UNESCO protected art of glassmaking. In 2006, he was enrolled in the glassblowing school in Kramsach, which he graduated from as a master in 2009. After his training, he enjoyed lessons with the artists Helmut W. Hundstorfer and Jan-Erik Ritzmann and developed his own artistic signature. At the age of 23, the young artist solidified his distinctive style in the sculptural field in the form of glass sculptures, paintings and installations. Original Kuchler III works are unique in their appearance and the peculiarity lies in their characteristic patterns and elegant design. In his exhibits you can find inspiration from famous pioneers - Klimt's beauty of form, Kandinsky's abstraction and Warhol's colorfulness.

In 2014, Kuchler III's first solo exhibition was held at the Hofburg in Vienna. In 2015, another exhibition followed at the Palais Niederösterreich. In 2016, in order to preserve the originality and have it protected, the young artist patented his artist name "P3" and his personal "handwriting" due to his high reputation. In the same year, a solo exhibition was held in the United Emirates and he opened his own gallery in the Empire of Glass in Austria. Kuchlerhaus is the largest Austrian gallery for glass art, next to it is the glass museum "The Glass Castle". The dynamic exhibition activity continues with the Italian artist Davide Salvadore, with whom he had a collaboration at the Corning Museum of Glass, New York in 2017. This was followed by exhibitions in Budapest and Savannah, Georgia. 2018 was marked by exhibitions at Orrefors in Sweden, in Munich and Hamburg and a collaboration with the English artist Peter Layton in Boda, Sweden. In addition, solo exhibitions were held at the DOM Gallery in Wr. Neustadt and at the House of Arts Gallery in Florida. Up until 2019, he held exhibitions in Germany, Vienna and Miami. In the same year he was awarded the Lower Austrian Art Prize "Creativity for the future". In 2021, his masterpiece was published on the cover of the Dorotheum auction catalog - making Peter Kuchler III the youngest artist since 1707 to receive this honor. The Dorotheum Auction House is one of the oldest and largest auction houses in the world. In 2021 Peter Kuchler III. was included in the Forbes list for Austria, Germany and Switzerland and nominated as the most exciting artist under 30. In 2022, Peter Kuchler III participated in the International Glass Art Exhibition at the Red Moon Gallery of Contemporary Glass Art.

Peter's artworks can be found in many private collections worldwide....Less...